OVERVIEW
This introductory course offers a balance of videos, discrete exercise/solutions that can be layered on top of existing accounting and financial modeling acumen. This CRE-specific industry module is designed to get you up to speed quickly and efficiently, with a focus on unique aspects of commercial real estate that can be paired with broader TTS courses including Applied Excel, general 3-statement modeling and valuation.
4 hours of video content.
Estimated 10-12 hours to complete.
KEY FEATURES
Real estate represents a diverse mix of special use-cases including offices, apartments, data centers, healthcare, office, self-storage, malls, shopping centers and industrial buildings
Public markets are dominated by large, diversified REITs in the US that recently became the 11th sector of the S&P 500
The private CRE market is highly robust and requires both shared and unique tools compared to evaluating public REITs
TOPICS COVERED
Complete topics step by step or jump to any of the below at any time.
Building a 30-year Debt Amortization Schedule in Excel including an interest only toggle
Calculating NPV and Going-in Cap Rates in Excel
Working with Date Functions in Financial Models
Calculating Common CRE Debt Ratios in Excel
REIT Metrics Explained including FFO and AFFO
Calculating Net Asset Value (NAV)
Reviewing Modeling Property Cash Flows for Different Deals
CRE Scenarios Analysis and 'Back-to-back' Data Tables
Calculating Unlevered and Levered IRRs in Excel
PREREQUISITES
This course is open to all. To maximize the benefit of this course we recommend an understanding of financial statements and Microsoft Excel.
Group Orders
We offer discounts for group orders on our self-study products. Group orders are an attractive option for companies or teams looking to upskill together.
Contact us at selfstudy@trainingthestreet.com to learn more about how to save money on group orders.
Browse Our Course Bundles Below: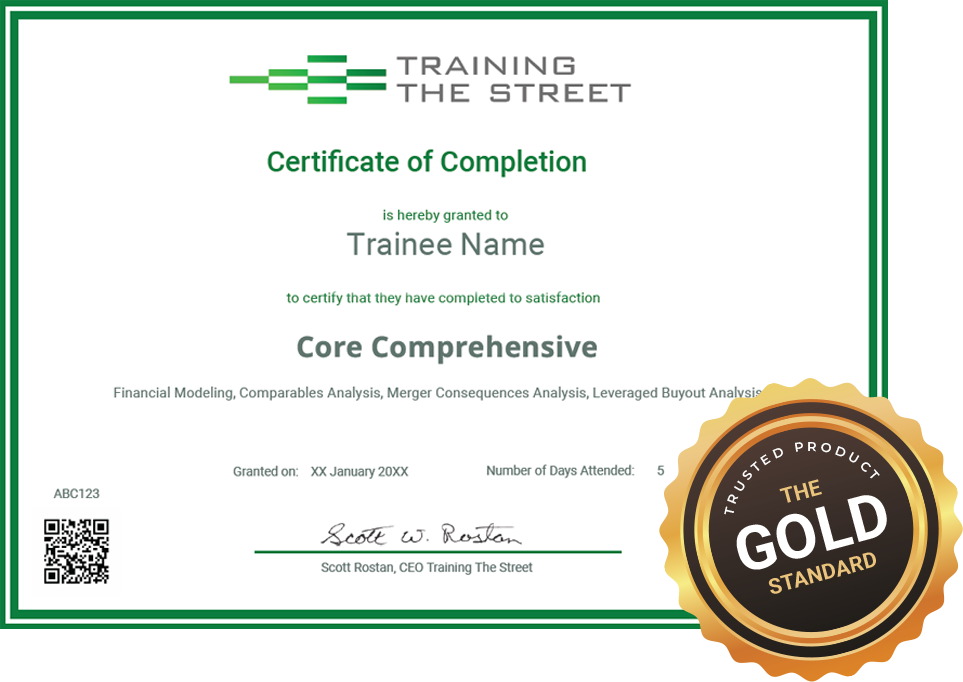 Gain your recognition with our digital certificates
Training The Street has been teaching the biggest finance firms for over 20 years. To help unlock your career potential, we offer certificates to provide the recognition you deserve.
After you finish your course, you will receive a certificate which can be easily added to your LinkedIn profile.