PowerPoint for PC: Become Proficient in PowerPoint
WHAT YOU WILL LEARN:
Important keyboard shortcuts to boost your PPT speed
Linking presentations with Excel
Charting
Alignment tools
Using task panes
Workplace setup
Using themes
3 hours of video content.
Estimated 6 hours to complete.
Through a combination of practical examples, exercises and step by step video tutorials, this course will introduce you to the PowerPoint interface and the tools required to create professional level presentations. Like Training the Street's signature Excel Best Practices course, this course stresses keyboard shortcuts and how to efficiently navigate in PowerPoint. By utilizing both basic and advanced tools, the course is designed to help experienced users to break bad habits and to harness the power of keyboard shortcuts while also providing less experienced users with a strong foundation for everyday use of PowerPoint. Whether you're an investment banker, consultant, accountant, or specialist in healthcare, technology or industrials, a novice or experienced user, taking this course will set you up for success in PowerPoint.
KEY FEATURES
The financial services industry (investment banking, consulting, research, asset management, brokerage, sales & trading, insurance, private equity, venture capital, entrepreneurship and start-ups)
Corporate/strategic development or finance group of a corporation
Marketing, brand management or operations for a corporation or any position responsible for a product or divisional budget, projections and profit/loss statement
Optimized for PC based Powerpoint
3 hours of video-based instruction
TOPICS COVERED
Complete topics step by step or jump to any of the below at any time.
Navigating – keyboard shortcuts, dialog boxes, F6, CTRL + F6 and task panes
Workplace setup – presentation views, slide sorter, aspect ratios and orientation
Alignment tools – gridlines, rulers & guides and Smartguides
Working with text – tools and best practices
Themes – colors, fonts, solid backgrounds, gradient background and picture background
Charting – copying charts from Excel, changing chart types and design/format options for pie charts
PREREQUISITES
This course is open to all. This course assumes no prior knowledge of PowerPoint
**Training The Street acquired AMT Training in 2021. We have merged AMT's products into one store, to increase our content offering.**
Group Orders
We offer discounts for group orders on our self-study products. Group orders are an attractive option for companies or teams looking to upskill together.
Contact us at selfstudy@trainingthestreet.com to learn more about how to save money on group orders.
Browse our course bundles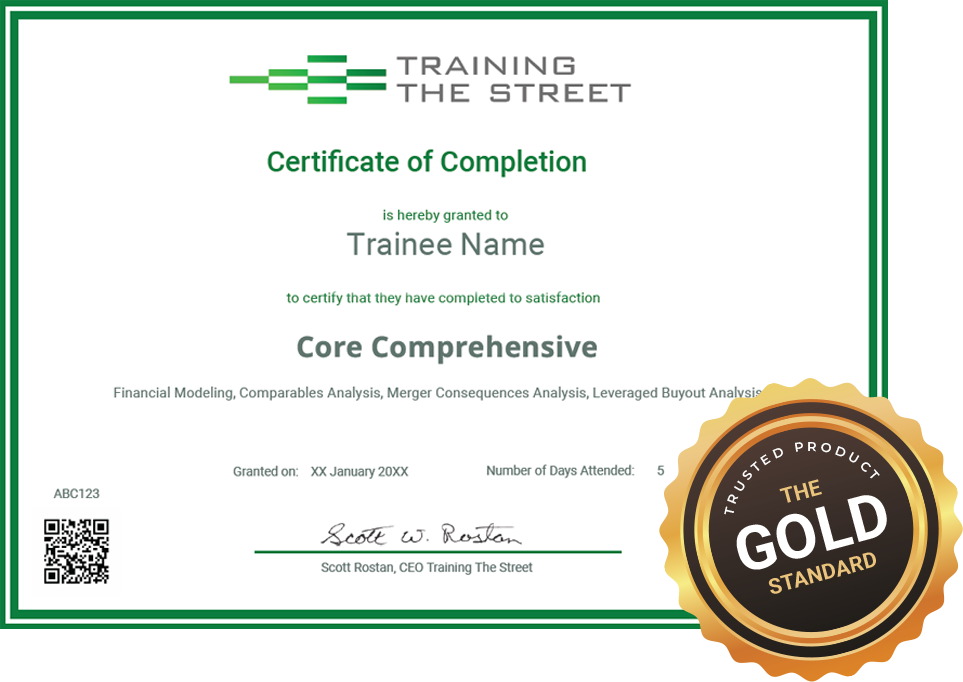 Gain your recognition with our digital certificates
Training The Street has been teaching the biggest finance firms for over 20 years. To help unlock your career potential, we offer certificates to provide the recognition you deserve.
After you finish your course, you will receive a certificate which can be easily added to your LinkedIn profile.